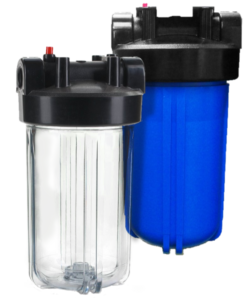 10″ and 20″ High Capacity Filter Housings
These are heavy duty 10″/20″ polypropylene filter housings. They meet all of your large-capacity filtration needs. this includes high-flow, and heavy sediment applications.
The extra large housing allows for greater cartridge capacity then standard inline housings, reducing the number of cartridges needed for high flow usage.
They are compatible with a large range of chemicals, and are suitable for both residential, and commercial applications.
Any of the standard 4.5×10 or 4.5×20 filter cartridges are compatible with these housings. Available in Blue or Clear.